Episodes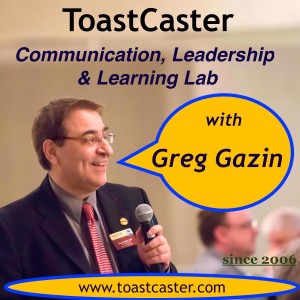 Saturday Apr 30, 2022
Saturday Apr 30, 2022
[29:23] Writing and delivering a good Toast might seem to be something you can just stand up and deliver off the cuff but many YouTube #fails say otherwise. A great toast that makes an impact needs to be well thought out, well written and delivered properly.
In today's episode we speak with professional speechwriter and newly published author Eddie Rice. Eddie shares with us some valuable tips and advice on preparing, delivering and mastering this ceremonial speech. He highlights his 7-step process and offers up some do's and don't when it's time to raise a glass.
You'll also learn about what the true purpose of a toast is and some of the different occasions a toast can be written for.
A lot of what Eddie shares is from his just released new book,
TOAST: Short Speeches, Big Impact, available on Amazon. 
We also learn a little about Eddie, how he transformed his career 180 degrees from being a Science Teacher to a Speechwriter and how Toastmasters helped him and continues to help him through that process. He also pulls back the curtain and shares some of the things he went through when writing his book including how he decided to first get feedback on his extensive outline which he in turn used to write his book.
Eddie Rice is a professional speechwriter with over a decade of experience in helping business leaders, keynote speakers, TED talk presenters, Nonprofit organization and everyday people, enhance the messages they tell through great storytelling and structure. 
Eddie is from Cleveland Ohio and can be reached at http://ricespeechwriting.com
Friday Jul 26, 2019
Friday Jul 26, 2019
[22:35] People use images in their Powerpoint presentations, blogs and there's no end to photos posted and shared on Instagram, Facebook, LinkedIn and more. But just because you find them on the web, are you sure you have the right to use them?  In this episode, Greg speaks with Samantha Lile who wrote an article with adapted flowchart for ViseMe.co entitled, Can I Use That Image? 
Samantha talks about her article and shares some things people need to be aware of and things to consider before using, posting or sharing a photo - primarily from a U.S. perspective with Greg offering up additional Canadian insight. However, it offers some some food for thought for people all around the world as many similar rules exist in other countries.
You'll hear about terms like Copyright, Creative Commons, Public Domain and Fair Use and some of the step involved in determining if an image falls into those categories and what to do. She also shares some of her favourite sources for free images including: Pixabay, Pexels and UnSplash.
Samantha Lile is an independent journalist, editor, blogger and content manager from Ozark, Mo. U.S.A, whose work can be found on sites such as: The Huffington Post, Thrive Global and Buzzfeed. Her original article and the companion flowchart can be found at Visme.co. You can reach Samantha via SamanthaLile.Carbonmade.com.
In case you're wondering, Samantha's photo is used with her permission. : )
Friday Mar 01, 2019
Friday Mar 01, 2019
[27:37] In this episode Greg speaks with Terence C. Gannon who created a narrative essay-style podcast by putting a unique twist on the typical format. His style hooks audiences whether they are interested in a particular topic or not and shows how you can take personal & corporate storytelling to a whole new level.
You'll hear his motivations in creating this type of podcast; a little about his writing process and how it works in both the written and verbal formats and how he publishes his audio podcast simultaneously with a written essay version on Medium.
Terence shares specific examples of episodes, illustrating how the stories evolved and even how one popular episode emerged and came full circle from just a single word which has different meanings
You'll also hear how it's ok to break the myth of storytelling structure and experiment with ways to tell stories.
Terence hails from Calgary, Alberta, Canada. He's a podcaster, writer, social media marketer and developer of digital projects. He's the master behind the Not There Yet and The WorkNotWork Show podcasts and a member of the Alberta Podcast Network – powered by ATB.
Terence can be reached at Ntyessays.com, The.WorkNotWork.Show or on Medium @TerenceCGannon.