Episodes
Monday Jun 27, 2016
Monday Jun 27, 2016

[29:22] George Marshall , DTM is the author of TmTools - Tools for Toastmasters, a series of tools to help Toastmasters at any level - Member, Club, Area, Division or District to truly get the information that they need in the sea of Toastmasters data.
TmTools do not replace, but rather extend information and reports we currently use - and they are constantly being improved and expanded. TmTools often give people that "I didn't know I could get that infomation," look on their faces.

George is a member of a member of three clubs: his home club (Star Search), an advanced club, and online club Netizens. He's the Producer, Toastmaster Time, D57's TV show, District 57's Statistician and a Revitalized Education Program Ambassador.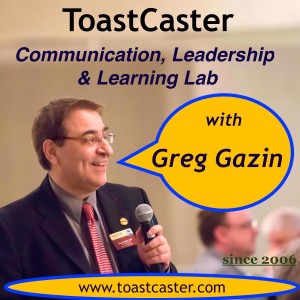 Tuesday Nov 29, 2011
Tuesday Nov 29, 2011
Accepting Credit Card Payments for small businesses and non-profits like Toastmasters  Clubs can be an expensive proposition.  Regina-based Netsecure Technologies have created Kudos - mobile payment system that offers a low-cost, no hassle, easy-to-use solution to this problem and a first of its kind in Canada.(Also available in the US). Listen to my interview with Netsecure's President Dan McCann and find out how you can use Kudos for your club or other business.