Episodes
Tuesday Aug 14, 2018
Tuesday Aug 14, 2018
[28:46] In the 100th episode of Toastcaster, we have a look back to our humble beginnings; some discoveries and lessons learned over 100 episodes. We also invite back Mona Cooley, Founder, Cool Family Solutions, Past Toastmasters District 42 Governor from Calgary, AB and first guest for the inaugural episode 1 recorded back in 2006 when podcasting was in its infancy and its technology still crude.
We hear how the podcast started as a High Performance Leadership Project (HPL) for Toastmasters. And with 100 episodes, over 220,000 downloads and 2,000,000 feed hits later, the podcast now serves as a resource not only for the Toastmasters Community, but for anyone who wants to build their confidence and improve both their communication and leadership skills.
We also hear how both Toastcaster Host Greg Gazin and Mona were excited yet nervous about taking on the project; some of the things they've learned about podcasting, the interview process and things they learned about themselves. You'll hear why the audio format is good and get an insight on Greg's vision for the podcast and what you can forward to in the future as the podcast evolves.
As you listen, you'll pick up a few tips and tricks about preparing and conducting interviews, especially the importance of asking the right questions, finding focus and preparing for nervous guests.
And finally, thanks to you, all our listeners for tuning in for every episode and to all the suggestions and feedback you've given us. We hope you continue to enjoy the Toastcaster Podcast.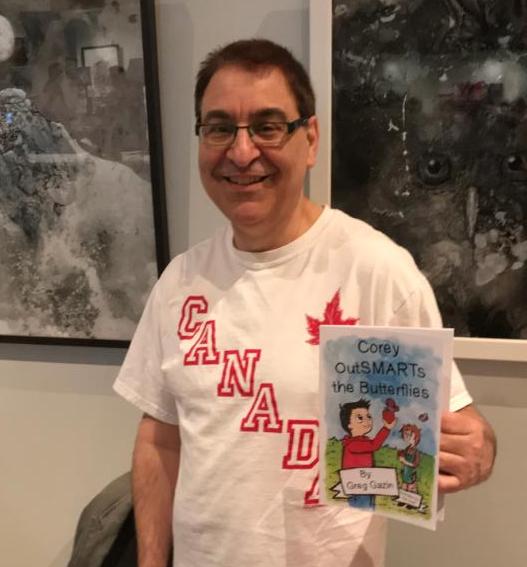 Tuesday Jul 31, 2018
Tuesday Jul 31, 2018
[31:08] In this episode we see a little switch as host Greg Gazin takes the other side of the mic and interviewed by guest host Ryan Levesque co-host of the Toastmasters Podcast. Motivated by reading the book, Ryan takes the host chair and gets Greg to come clean to finally speak in detail about his 1st book, Corey OutSMARTs the Butterflies. 
Greg shares with Ryan a little about what his book is about and how he stumbled upon the idea and what and who inspired him to take on the project which lead him to find a new passion - writing for a young readers. Ryan gets Greg to pull back the the curtain to talk about his shy humble beginnings (long before he joined Toastmasters) but also what he learned about his journey, the writing process, the illustrations and what he'd do differently the next time. You'll also here how it's changed him and what people of all ages can learn or take away from reading the book including a glimpse into the book's SMART model (not the one you're thinking about).
Ryan also give his take on the book and how he feels it can help his young daughter.
There's also a book give-away, but you'll have to listen to the podcast to find out more.
Categories: Public Speaking, Confidence, Youth Leadership, ESL